Home /
Welcome to the Desert Pride Center — Palm Springs, California
A Place to Call Home for the Gay, Lesbian, Bisexual and Transgender Communities in the Coachella Valley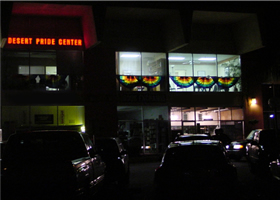 In The News at DPC
Volunteers are The Center's lifeblood
Bonnie Lunt Honored as Volunteer of Month
Denise Latini and Mike Crews Board Co-Chairs for 2006
Intro Workshop to Myers-Briggs Type Indicator
Your Local Lawyer
'Heroes Hall' Induction Ceremony Announced
The Center Welcomes New Business Member
Baby Boomer Workshop Offered February 23
A Place to Call Home
Find us upstairs at the Sun Center at 611 South Palm Canyon, Suite 201 in Palm Springs!
Hours of Operation:
Monday-Thursday: 12 noon – 9 pm
Friday: 12 noon – 6 pm
Saturday: 1 pm – 5 pm
Closed Sunday except for pre-arranged meetings and events.
Please call ahead to confirm any schedule changes at (760) 327-2313. Please call to verify times! For Fun, Facts & Fellowship, sign up TODAY for our exciting WORKSHOPS and EVENTS at the Center!
The Desert Pride Center was founded to be the Gay, Lesbian, Bisexual and Transgender Community Center where members of the Coachella Valley GLBT community and visitors may gather for social, educational, and cultural activities! Check out our site — find out more About Us — and get involved today! Note: DPC membership is not a requirement to visit or participate in our programs.
Contact Us | ©Desert Pride Center | Design by Berlin Technologies |