Home / News
News
Download the newsletter in PDF format. Warning! Very large file, not recommended for dial-up.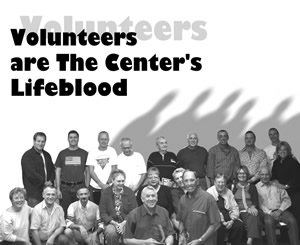 BY SHARON DOTY
March is National Volunteer Month – a time when all organizations revel in awe at the hours of service and thousands of dollars in time that volunteers donate to their individual cause. They are the lifeblood of every organization.
In reviewing the hours of the twenty-three administrative volunteers who staff the front desk and library of The Center and who attend required training meetings, the Desert Pride Center is proud to announce that this core group of volunteers worked a total of 2,599 hours in 2005. At a conservative rate of $15 per hour, this donated time saved The Center $38,985 in labor costs alone last year.
Volunteers were recently acknowledged and thanked individually at our January volunteer meeting. Those who worked over 100 hours this past year were: Paul Schmidt, Volunteer of the Year 2005 with 251 hours; Keith Flood, 203 hours; Ed Walsh, 182 hours; Lewis Porter, 185 hours; Gracie Laudari, 168 hours; Ken Russell, 165 hours; Jeff Hyde, 159 hours; Vivian Gonzales, 115 hours; and Mel Matulsky, 102 hours.
Additionally, there are countless other hours donated to the Desert Pride Center that are more difficult to calculate or capture such as committee work, special event planning, accounting, and the monthly newsletter and website. Additionally the Desert Pride Center's Board volunteered countless hours, as did class instructors and various service providers who donated cleaning, painting, carpet cleaning, etc.
The gratitude of the Desert Pride Center Board of Directors and Administrators is extended to all who donate their time every day and do so because they believe in The Center and what it offers to our community. Thanks to all the volunteers for your many hours of service.
Without the contribution of this time and effort there would be no Desert Pride Center!
---
Bonnie Lunt Honored as Volunteer of the Month for January 2006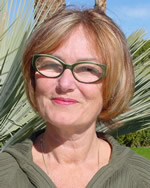 BY SHARON DOTY
Born in Buffalo, NY, Bonnie Lunt found her way to the Coachella Valley eight years ago after leaving a long and rich career as an LCSW social worker. In the early 1970's she relocated to Boston, MA and spent many years in diversified relationships and as a self identified bisexual woman.
Bonnie has been a political activist since the 1960's when she first moved to NYC in 1968 and then to Boston in 1973. She has worked with several organizations over the years on welfare rights, abortion rights, GLBT rights and several other issues. While in Boston, she and a group of other feminists began the Somerville Women's Center and started an annual International Women's Day celebration that continued for years.
As a social worker and psychotherapist, Bonnie worked on starting several programs including a battered women's shelter and a day treatment program for alcoholic women and their children. She spent thirteen years as a Clinical Coordinator and Associate Director in a psychoeducational alternative high school for learning and emotionally challenged adolescents. In addition, she had a part time psychotherapy practice and she was an adjunct faculty member at Lesley College Graduate School of Counseling Psychology.
While in Boston, Bonnie met her partner Larry and in 1985 they began jointly raising their three daughters, Sarah, Courteney and Tessa, whom they consider a mirror of their best work together. Since Sarah resides in North Carolina and Courteney and Tessa reside in New York City, Bonnie and Larry have adopted a second family of three rescued cats who rule the home.
After moving to the Coachella Valley, Bonnie worked for the Riverside County Department of Mental Health for six and one-half years as a therapist and social worker.
At year seven, retirement seemed in order and Bonnie found the Desert Pride Center and related to the organization's activities and mission statement. She says she immediately "felt at home" and decided that becoming a volunteer was a new way to continue her life commitment to the GLBT community.
Bonnie's original involvement with The Center began when she volunteered to assist in establishing The Center's hate crimes policy and process with volunteer David Hughey. Bonnie and David started a support group at The Center for hate crime survivors and continue to be a primary contact when such incidents are reported.
Bonnie has taken on many more volunteer challenges. She serves our Center as an administrative volunteer and is a working member of the Program Committee and has been a key member in the formation of the new "Women's Special Program Committee". Additionally Bonnie participated in The Center's Pride Festival booth, the Commitment Registry fundraiser and is always there for extra shifts when needed.
Bonnie says, "One of the things that I have learned in my career and personal experience is that being connected to others is vital to a meaningful life." She believes The Center provides a place where this can happen. "Through our many groups, activities and committees, people get a sense of belonging and being active. We are doing important work together. Throw in a little fun and what more could one ask for?"
Congratulations, Bonnie, and our thanks for your continued support and work for our Center and community.
---
Denise Latini and Mike Crews Elected as Board Co-Chairs for 2006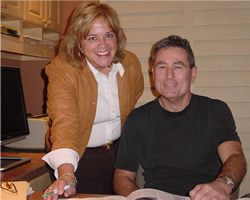 BY MIKE DORRINGTON
At its first meeting of 2006, the Desert Pride Center Board of Directors elected officers for the coming year. Denise Latini will return as Board Co-Chair and will be joined by Mike Crews. Also elected as 2006 officers were Adam Grosso, Vice-Chair; Steve Frank, Treasurer; and Candice Gilmore, Secretary.
Both Denise and Mike bring a world of professional expertise and business acumen to their roles at The Center. In 2005 Denise Latini was elected Co-Chair in her first term on the DPC Board. She also spent her first very challenging and rewarding year heading up the DPC Special Events Committee. One event she takes great pride in was our "Sign Lighting Ceremony"—the unveiling and lighting of the new DPC neon sign facing South Palm Canyon. As she noted, "Our sign says we're really here. We can end the discrimination. You have a place to call home — a safe place to go". While continuing as DPC Co-Chair, Denise will also continue as Co-Chair of Special Events.
Denise has extensive background and experience in health care. She has worked as a chemical dependency nurse at the Betty Ford Clinic for the past 13 years and continues her service as a hospice nurse. She feels this dovetails perfectly with an additional role she will assume as liaison to our Center's volunteers.
"Our volunteers are the heart of The Center", she said. "They are the glue that holds us together. I want to make a difference for them—to honor and support them".
Denise is very excited about working with the new DPC Board in 2006. "We have a very diverse Board with great strengths", she stated. She envisions a major impetus to improve The Center's public image. To this end, The Center will hold its first ever off-site retreat to identify strengths, weaknesses, opportunities and challenges. Additionally, she feels that support from the larger Coachella Valley community is tremendously important. She favors forming a "Friends of The Center" Committee to function as a DPC ad-hoc advisory council.
Since our founding, Mike Crews has been involved with every DPC Board of Directors. He was, in fact, Treasurer of the DPC Formation Committee, two years prior to The Center's formal founding. With his broad economic and financial background, Mike previously served as Treasurer at The Center for two years. He was also Treasurer at The Mizell Senior Center for eight years until May 2005, where he was also extensively involved in fund raising.
In addition to serving as DPC Co-Chair, Mike is also presently Co-Chair of the Grant Committee. In the coming year, Mike would like to see a substantial increase in The Center's program funding through grants, accompanied by an increase in membership. Mike feels the involvement of local GLBT businesses, as well as networking with other non-profits, is of paramount importance.
Both Co-Chairs share a great enthusiasm about The Center's future. Both envision DPC owning its own building plus an ever-growing membership, representative of the majority of our Coachella Valley. As Denise noted, "We really grew both business and individual memberships in 2005. In 2006, we are going to the next level". Mike stated, "As the GLBT population grows, a membership of 20,000 is not an unrealistic goal. And, it is important to remember the goals of our Center founders. The Center is here to represent everyone in the Coachella Valley—including the straight community".
---
Interested in Knowing Yourself Better?
Intro Workshop to Myers-Briggs Type Indicator – February 18 & March 18
BY JEANNE BOURGEOIS
Why do some behaviors bother us, yet others make perfect sense? What information is important to you in decision-making? What influences how you manage or structure your time? Where do you get your energy – by yourself or with other people?
If you have ever had similar questions about your actions and those of the people you know, then the understanding of personality styles through the MBTI® (Myers-Briggs Type Indicator) is for you! An MBTI® introductory workshop offered at the Desert Pride Center on February 18 from 1 to 5 p.m. can increase your understanding of basic personality differences and they influence behavior.
The MBTI® is a personality questionnaire that has been used for over forty years in corporate, academic, and career counseling settings. It is easy-to-use, and identifies innate preferences and strengths in four areas. There are no right or wrong answers, and therefore no "good" or "bad" personality types. Like individuals, every type has its unique strengths and weaknesses.
The workshop is a half-day design (four hours), with breaks. Practical, hands-on exercises illuminate basic similarities and differences in personality types. Participants are placed into groups with those of similar and different personality types to enhance individual learning. Quiet time for reflection and active participation are encouraged. Two workshops are scheduled February 18 and March 18, 2006.
You can expect to gain a basic understanding of your 4-letter type, and discover your preferences in perception, decision-making, energy direction, and the face you show the world. Additionally, you may gain a basic understanding of how these preferences may be similar to and different from significant others in your life. At the workshop, you will receive a personalized folder with your scored answer form, a preference clarity report, an individual type profile, and useful handouts on applying type in your daily life.
Cost is $100 for DPC members and $110 for non-members. Pre-registration and payment are required prior to February 13. A 15-20 minutes questionnaire must be completed. All responses are confidential; results will be returned at the workshop.
Workshop instructor, Jeanne Bourgeois, is a qualified administrator of the MBTI® through Otto Kroeger Associates, LLC, with a proven commitment to GLBTQ issues and women's rights. For questions regarding the workshop, please contact Jeanne Bourgeois at [email protected].
MBTI and Myers Briggs type indicator are registered trademarks of Consulting Psychologists Press, Inc., Palo Alto, California 94303.
---
Your Local Lawyer
BY BARBARA BARRETT
Question:
I have been with my partner for ten years now in what I thought was a loving, caring relationship. He owns a house in Palm Springs that he had when we first met and we both currently live there.
We have not registered as domestic partners in California but registered with the City of Palm Spring about two years ago. My partners name is on the house alone but I have been paying one-half of the mortgage, property taxes and insurance since 1995. I used an inheritance I got from my mom's estate and added a room on to the house.
Last week he told me that he's fallen in love with someone else and asked me to leave telling me that the house was his and that he was going to sell it soon. I was shocked and still am and just don't know what to do. Should I just pack up and go? Do I have an interest in the house? All I know is that I still love him even though he hurt me and I just want what is right for both of us.
Sad and Suddenly Single In Palm Springs  
---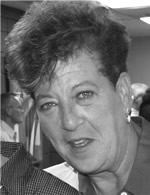 Response:
So sorry for the break up of your non-statutory domestic partnership. I can only hope that you and your now ex-partner can sort out your financial relationship amicably and not get involved in expensive litigation.
The good news is that you will not have to file a Dissolution of Domestic Partnership in the Riverside Superior Court in order to dissolve your relationship. Only couples registered with the State of California have to go that route. Registering with the City of Palm Springs was more romantic than legal and does not require a "legal" termination.
It is clear from the facts that you gave me that you have a significant interest in the house. I am very concerned that your ex-partner is considering selling the house immediately. Unless the two of you agree that he not do that, and instead negotiate a "buy-out" of your interest in the house, you will have no other choice but to file a lawsuit asking the court to award you an interest in the house and perhaps in other assets if you can prove that you had a "pooling" agreement (an agreement wherein you both contributed your income for the benefit of each other).
Once you file a lawsuit, you can record a "lis pendens" with the County Recorder's office that will preclude him from selling the house to a third party or from refinancing it through a lender. The lis pendens lets the world know that there is a dispute regarding ownership in the property and it will only be released once the lawsuit is settled.
As far as leaving the house is concerned, at the very least you have established yourself as a "tenant" and the only legal way for him to have you removed is by filing an unlawful detainer action (an eviction). The problem is, however, if you are fighting and the atmosphere is dangerous either emotionally or physically, it might be better for you to leave.
The most important thing is that you contact an attorney immediately. Bring to your first consultation as much financial information regarding your contributions to the house as you can as well as your estimate on what the fair market value of the house is and how much is owed on it. Hopefully, you and your partner can resolve the financial issues through mediation but if you can't, then litigation is the only way to preserve your interest in the house.
Good luck.
Barbara Barrett is a local Palm Springs attorney practicing in the areas of estate planning (wills and trusts), probates, gay and lesbian dissolutions, and bankruptcy.  She has been practicing since 1983 and her offices are at 555 S. Sunrise Way, Suite 217, Palm Springs, CA 92264. You can send your questions to her at [email protected] or at the address above. Please be sure to include your name and address. The information contained in this column is for general guidance only. The application and impact of laws can vary widely based on the specific facts involved.  As such, advice given should not be used a substitute for a consultation with an attorney.  Attorney Barbara Barrett and the Desert Pride Center recommend that before making any decision or taking any action, you consult with an attorney of your choice.
---
'Heroes Hall' Induction Ceremony Announced
A March 11 Martini Party!
BY GRACIE LAUDARI
In honor of the Founding Members of the Desert Pride Center, the Special Events Committee will host a Martini Party on March 11, 2006, from 7-9 at The Center. Hors d' oeuvres, Martinis and other beverages will be served.
Being honored are Founding Members Barbara Colby, Mike Crews, Jack Fitzgerald, Ginny Foat, Jack Newby and Chads Skinner. The foresight of these men and women laid the foundation for the Desert Pride Center, as we know it today. Through their selfless endeavor, they have created a vibrant center for the GLBT community of the desert cities.
The Desert Pride Center continues to prosper through the dedication and commitment of the Board of Directors, Co-Administrators, volunteers and members. The Special Events Committee is proud to honor these women and men.
Tickets will go on sale February 1, 2006, at a cost of $25 per person. Due to limited seating, reservations are required and limited to the first 100 people. Reservation may be made by calling 327-2313 or in person at the Desert Pride Center.
---
The Center Welcomes New Business Member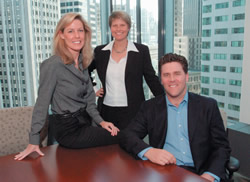 BVH Law Group, LLP
BVH Law Group, LLP (formerly Boutiette + von Herrmann, LLP) provides competent, comprehensive estate planning legal services to the gay, lesbian, bisexual and transgender community in San Francisco. The firm has recently opened an office in Palm Springs and is now delivering these same essential services to our community.
The firm's three partners, Deb Kinney, Dale Boutiette and Susan von Herrmann, work together to provide each of their clients with a tailored solution that meets that individual's unique estate planning needs. Their practice covers a broad spectrum—from foundational planning designed to provide financial protection in the event of incapacity or death to sophisticated tax and wealth transfer structures.
Charitable planned giving is another important area of the firm's expertise. BVH Law Group, LLP is committed to challenges facing the community and actively supports a variety of GLBT organizations, both in the Bay Area and here in the Coachella Valley. Community outreach and education around legal issues affecting gay and lesbian people, most recently on the topic of registered domestic partnership, is an integral part of the firm's mission as well.
On February 16 at 6 p.m. at the Desert Pride Center, the firm will be giving a free seminar entitled: Are you protected? Important estate planning tools for members of the GLBT community.
You can visit BVH Law Group, LLP on the web at www.bvhlaw.com or call (760) 682-0009 to arrange a complimentary consultation.
---
Baby Boomer Workshop Offered February 23
BY MICHAEL CARBINE
Baby Boomers, (ages 42 to 60), are entering a new phase of life. Some are turning 60 this year and thinking about retirement. Many are beginning to ask, "What's next?" A lot of Boomers want to take control of their future and re-channel their skills and talents by defining their ideal life, and then taking the necessary steps for making their ideal life a reality.
It's not uncommon, however, for people in their 40s and 50s to get stopped on the road to change because they don't think they can do it or because they're not clear how to get from here to there. Many have clarified what they would love to do in the next phase of their life but aren't sure what steps to take to make it a reality.
Transition Planning for Baby Boomers: Re-launching Yourself at Mid-Life is an interactive 90 minute workshop that provide participants with the practical tools and motivation they need to explore their options for changing the direction of their life at mid-life, create a plan, and get started on turning their dreams into reality.
The workshop takes participants through the questions they need to ask to understand new challenges, changes and opportunities; assess their personal strengths and areas for growth; spot the roadblocks and pitfalls; works effectively to address their fears and concerns; clearly define their goals; and then chart a step-by-step course to accomplish their goals.
Michael Carbine is facilitating the workshop. For over 25 years, Carbine has helped people undertake career breakouts and re-launches.
This workshop will be held February 23 from 7 to 8:30 p.m. at The Center. The workshop is free but donations to The Center are encouraged. Enrollment is limited to eight people. Call (760) 219-1684 to register or for more info.
Contact Us | ©Desert Pride Center | Design by Berlin Technologies |